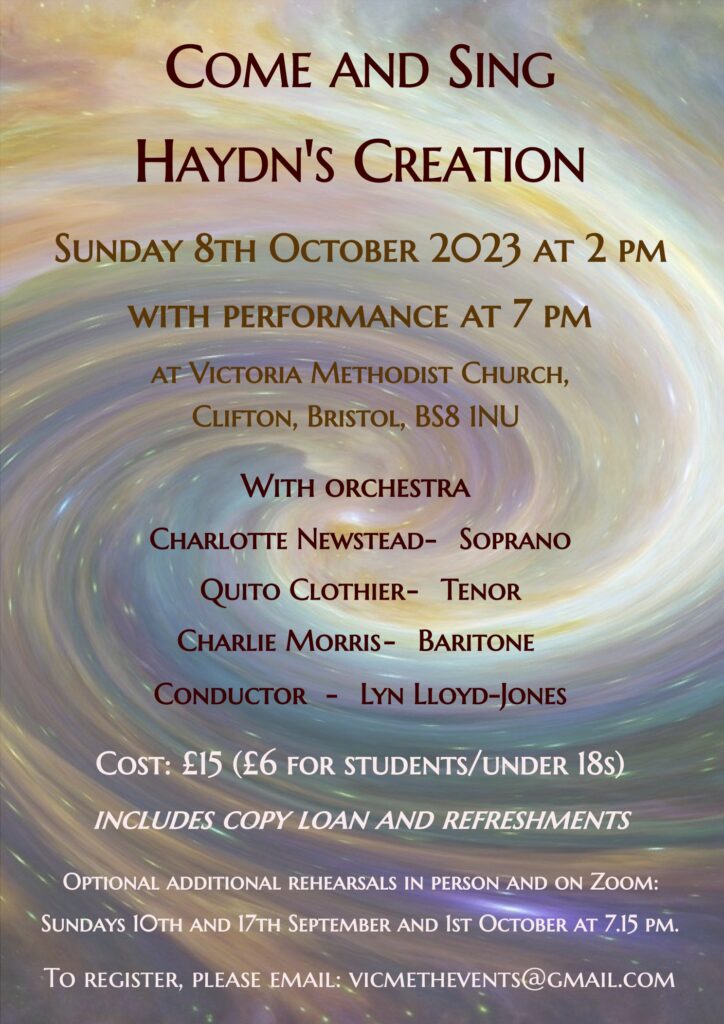 Reserving a Place
We are anticipating that this will be a popular event and places are limited, so if you would like to take part, please email David at as soon as possible to reserve your place and a music copy. When you email to register, it would be helpful (for admin purposes) if you could state which voice part you like to sing (i.e. soprano/alto/tenor/bass). You will not be asked to pay at this point.
Registration
Please arrive at Victoria by 1.45pm on the afternoon of the 8th. This should give you plenty of time to pay and collect your loan copy (if you haven't already done so at one of the preliminary rehearsals), as well as find a seat while the soloists and orchestra are finishing their rehearsal. Then, hopefully, we can start the choir rehearsal fairly promptly at 2.00pm.
If you are going to be late, let us know so that we can reserve you a seat in the correct part of the choir!
Cost
The cost of the event will be £15 (£6 for under 18s/students) inclusive of copy loan and refreshments. Payment will be gratefully received by card, cash or cheque (made payable to 'Victoria Methodist Church').
Timings / Refreshments
On the afternoon of the 8th October we will break approximately halfway through the afternoon rehearsal for tea/coffee, and should finish rehearsing by about 5.00pm, or soon after.
Tea/coffee and cake will then be served in the large hall downstairs to all performers. If you have got any specific dietary requirements, eg gluten-free, dairy-free etc do let us know so that this can be passed onto the catering team who will do their best to provide cakes for everyone! You may wish to bring sandwiches to eat at this point too; alternatively there are several cafes and supermarkets a short walk from Victoria.
We will meet in the large hall for a quick warm up at 6.45pm, ready to head back upstairs for the performance at 7.00.
Dress
Choir dress code for the performance is black skirts/trousers and brightly-coloured tops.
Music Copies
We shall be singing Creation from the New Novello Choral Edition, edited by Michael Pilkington, which will be the version available to borrow on the day. If you would prefer to use your own copy, that's absolutely fine, although other editions may have different page numbers etc.
In the afternoon, we will rehearse everything we are going to perform, but if you'd like to listen to Creation in advance, there are lots of performances on YouTube.
Please make sure that you leave all loaned vocal copies behind at the end of the concert, and don't take them home with you by mistake!
Preliminary Rehearsals
We shall be holding three preliminary rehearsals on Sundays 10th and 17th September and 1st October at 7.30pm at Victoria. These are particularly for those who would like to participate but are not familiar with Creation, or are less confident singers and feel they would benefit from a bit of extra rehearsal time prior to the event. We are hoping to make these remotely accessible via Zoom, as well as in person; please let us know if you would like to join via Zoom and we'll send you the Zoom link.
What to Bring
On the day, as well as sandwiches for tea time, and your clothes for the evening, you might like to bring with you a 2B pencil for the rehearsal and a bottle of water. Pencils will also be available to borrow.
COVID-19
We will not require participants to wear face coverings, but if you would feel more comfortable doing so, that, of course, is absolutely fine.
Audience Tickets
Please do encourage friends and family to come along to the performance in the evening. Tickets will be available on the door (£10 adults, £5 for under 18s) or at the preliminary rehearsals.
We are greatly looking forward to seeing you on 8th October for what we hope will be an exciting event!  Do get in touch with any additional queries at .